To tears!
This story began 11 years ago when a family in the UK brought a small furry kitten into their home. The kitten has changed their son Kian's life completely.
When Simba stepped over the threshold into his new home, he immediately ran up to four year old Kian and climbed onto the boy's lap. It was as if Simba knew exactly what the boy wanted. The fact is that Kian was born very early in life and was very sick.
«He has autism, secondary immunodeficiency syndrome, degenerative bones and soft tissue,» said Becky Green, Kian's mother
Simba became a guardian angel for Kian that day.
Kian would often stop breathing and Simba would rush to tell people about it.
When Kian is worried and frightened, Simba sits in his arms and purrs loudly. He is the only one who can soothe the boy. And every night the cat goes to bed with Kian, and when he falls asleep, he leaves. And in the morning, before Kian wakes up, Simba always goes back to his bed.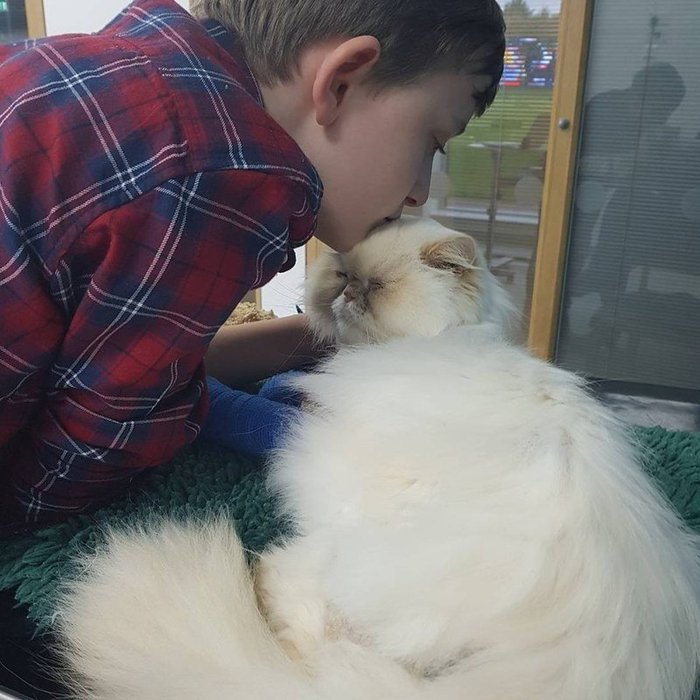 But on 9 October, the family's life completely changed. Becky was on her way to work and about to take the children to school when Simba jumped out of the house through the open door and disappeared from sight. Becky thought he was coming home, but a little later she received a message from a neighbour that shocked her: 'Simba has been hit by a car.
«I rushed home as fast as I could. I saw Simba lying on the roadside. His paws were just crushed… I gently picked him up and gave him to my mother who was sitting in the passenger seat. We raced to the hospital and Simba was purring very loudly despite his condition,» recalls Becky.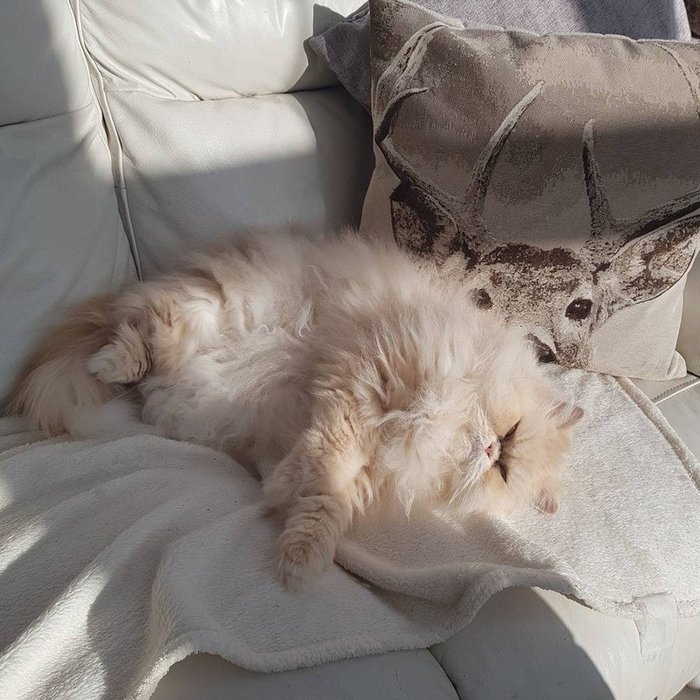 Becky warned the doctors beforehand that she was taking Simba to them. The vets were shocked at the condition of his paws. But most importantly, his internal organs were intact.
Unfortunately, this hospital could not help. Specialists were needed here and Becky went to the Queens Clinic in Cambridge.
«Put him to sleep and get a new cat,» were the words that greeted Simba with the experienced specialists. They saw no merit in the complex operations.
Hearing this, Kian fell to the floor and began to beat hysterically. He begged the doctors to save his favourite cat, but they only shrugged. Simba, seeing that his boy was not well, gathered all his strength and used his hind legs to crawl towards his master. He rubbed himself on the boy's face and purred loudly. He wasn't interested in his broken paws or the searing pain. He knew Kian needed him now.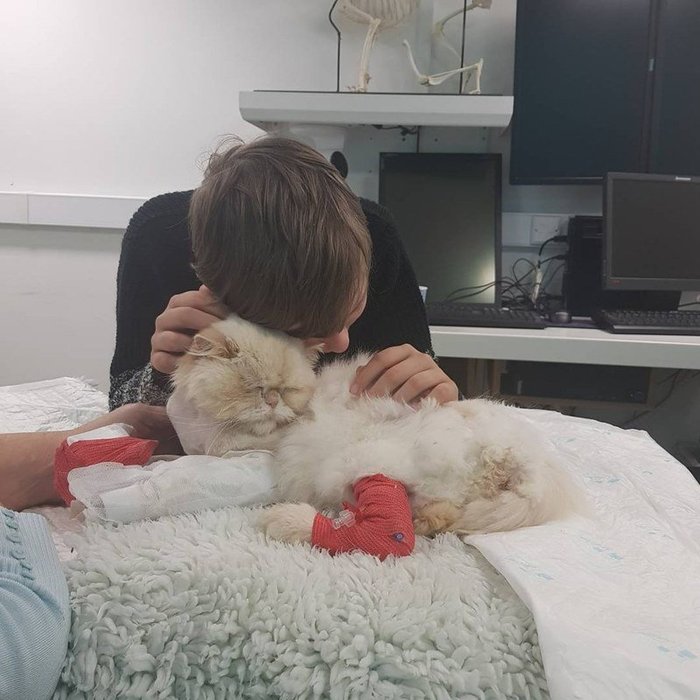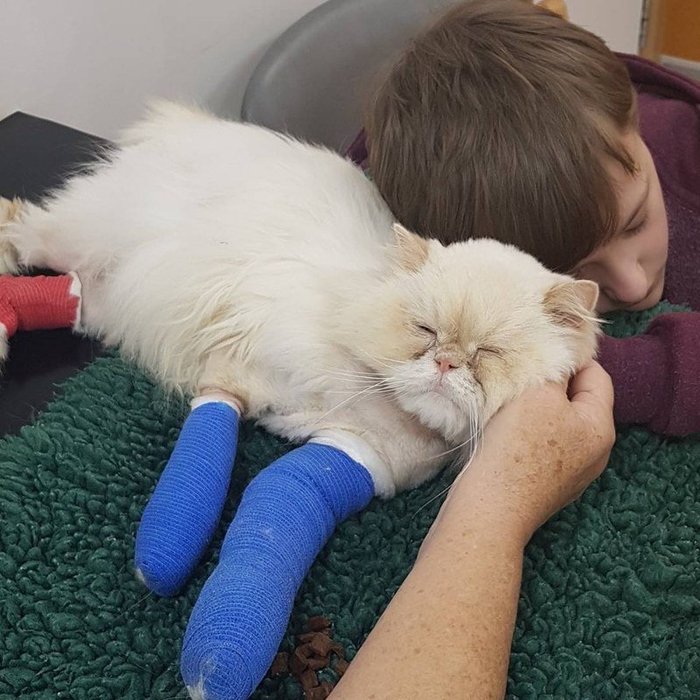 «It was the most heartbreaking moment of my life,» says Becky.
The nurse who oversaw the whole thing advised Becky to contact Dr Noel Fitzpatrick, a world-class veterinary orthopaedist.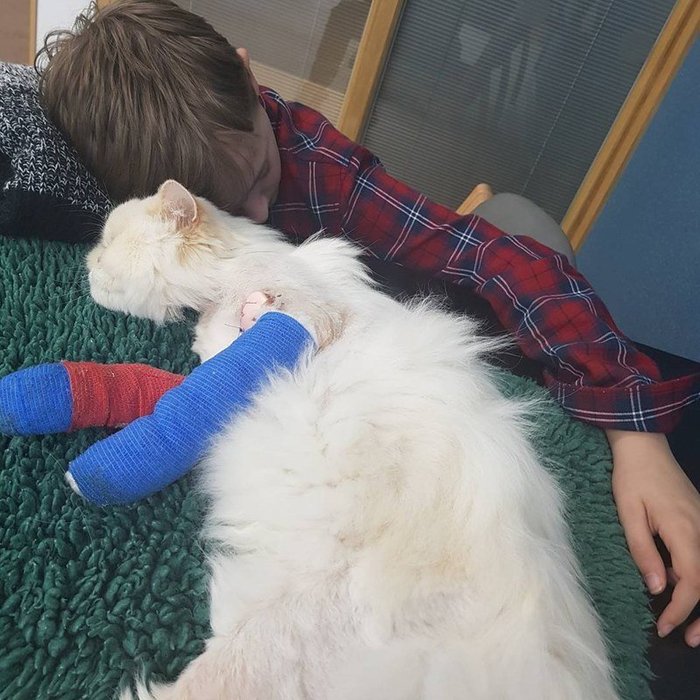 The wonderful surgeons at Dr Noel's clinic immediately put Simba on the operating table. They did not give a 100% guarantee that the cat would survive, but they had no plans to give up. He had already undergone many operations, skin replacements and bone reconstruction.
After a while he got much better. He even started to feed himself: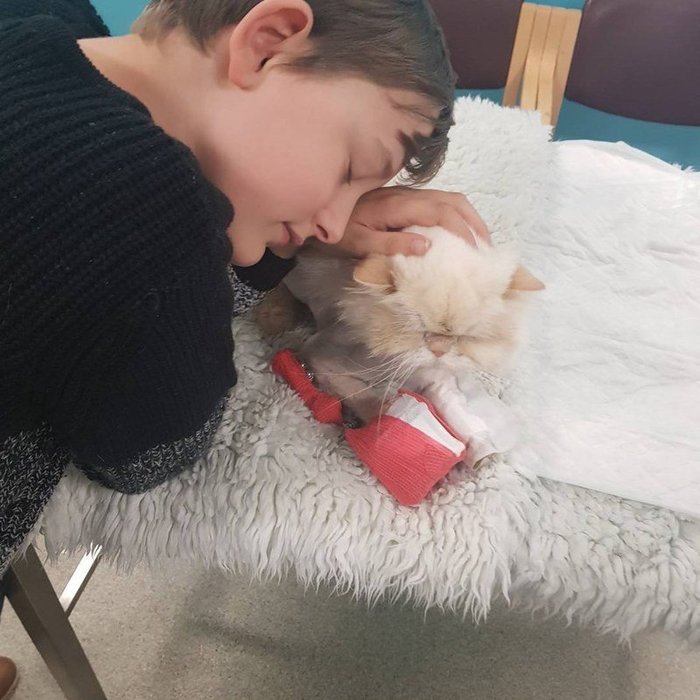 Kian asked his mother to visit Simba as often as possible. They tried to visit him four or five times a week. The clinic is 500km away from Becky's home and the drive there and back took about eight hours.
«He is my friend and he needs me now. He needs to see us more often,» Kian told his mum.
Simba is an incredibly courageous cat, during his entire hospital stay he didn't try to lash out or hiss at anyone. He has stood firm through all the painful procedures.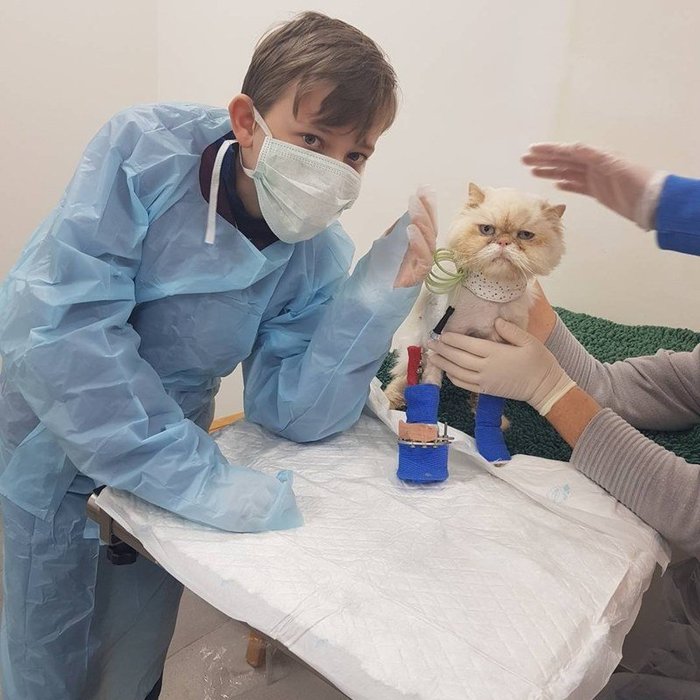 According to the latest photos and videos on Simba's Instagram, the cat is already home with his loving owner and is fully recovered.