While working hard on promoting one of her latest films – Wonder – Julia Roberts shared a lot of sweet memories and personal secrets. Here are some of the most interesting facts the Oscar-winning actress revealed in her recent interviews.
On making 'Pretty Woman'
Pretty Woman is an iconic Hollywood romance that made Julia Roberts famous worldwide and brought her a Golden Globe and an Academy Award nomination for the Best Actress. One of the best parts of the film, of course, was the brilliant chemistry between Julia Roberts and Richard Gere. But it turned out that duo might have never happened.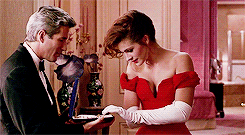 As Julia Roberts recalled in an interview with the Entertainment Weekly, it was not easy to convince Gere to do this film. The Oscar-winning actress confessed that she begged Richard to join the cast.
I kind of pleaded with him in a very real way.
Then, the actress added that Gere "changed all of our lives forever" by agreeing to play Edward Lewis. And this is something we can hardly disagree with.
On Hollywood's latest scandals
The recent wave of scandalous allegations shook the Hollywood to the core. But Julia Roberts seems to be one the few famous women who are not going to join the movement. When being asked about her own experience, the 50-year-old actress describes her Hollywood career as "overwhelming positive."
In an interview with TODAY, the actress called the recent events "ugly in so many ways" but added that she personally never had to face any of these issues. Pretty impressive for someone who has been working in this industry for over 30 years.
On raising kids and making 'Wonder'
Julia Robert's kids are one of the topics that are rarely discussed in her interviews. But when talking about Wonder – one of her latest projects – the Eat, Pray, Love star shares a few thoughts about her own experience in parenthood.
In an interview with the Good Housekeeping magazine, the mother of three points out that providing our kids with unconditional love is the best thing we can do for them. However, it does not mean allowing them to do whatever they want to. In her opinion, some people confuse these two things: loving your kids unconditionally and spoiling them.
And as for Wonder, it turned out the actress wanted to play August's mom for a long time. When she finished reading the book, Roberts called her agent to say she wants to play Isabel, the mother of the main hero.
Wonder is a touching and inspiring story of a little boy with facial differences, based on the novel of the same name written by Raquel Jaramillo. Along with Julia Roberts, the movie stars Owen Wilson and young Jacob Tremblay. The film is directed by Stephen Chbosky and is scheduled for release on November 17, 2017.